Smart Energy
Energy is vital to every human on the planet. In today's world, we experience the challenge of great transformations in the energy landscape. The pressure on increasing environmental awareness and sustainability calls for more efficient and less carbon-intensive energy solutions across all industry sectors and consumers. Solving these challenges will be of significant value for society. Our research aims for energy sustainability and efficiency based on active user involvement focusing on: (1) Control strategies for dynamic demand-supply balancing; and (2) Predictive demand analysis. To achieve these targets, we employ simulation and optimization technologies that utilize energy domain knowledge and cooperative intelligence.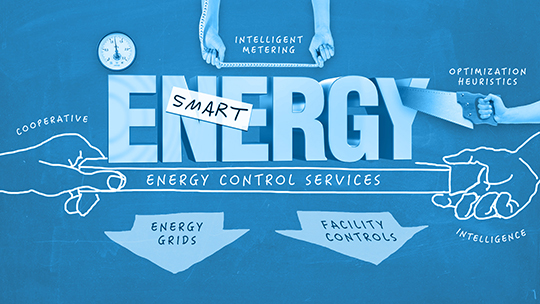 Energy Management Systems for Buildings
This research area focuses on energy services for large-scale buildings built upon a Holistic Online Energy Commissioning process. Building Commissioning is gaining traction as a popular energy and operation optimization measure valued for high return on Investment. The aim of commissioning is a systemic approach to provide performance and energy savings enabled by building design and operations as well as an integrated approach of intelligent technologies and continuous monitoring and evaluation. The research projects focus on analyzing the building's operational data within various dimensions (time, space, and context) in order to provide decision support services for energy-efficiency buildings.
Energy Control Strategies for Smart Grids
This research area focuses on the control strategies for dynamic load balancing concepts to drive environmental sustainability in different areas of the energy landscape. One major aspect relates to load balancing strategies in the context of high penetration of local renewable energy supplies in residential power grids with (a) fairness and stakeholder collaboration, and (b) demand-response mechanisms for large-scale power grid elements like buildings, and e-storages. Further, intelligent cooperation across hybrid energy grids (power & heat, power & gas) offers a big potential for improved energy efficiency.
Publications
2015:
M. Schmidt, A. Schülke, A. Venturi, R. Kurpatov: Predictability of Energy Characteristics for Cooling, Ventilation and Heating Systems in Sports Facilities, ISGT US 2015, Washington/US, 19-22 February 2015
R. Kurpatov, M. Schmidt, A. Schülke: Enabling Complex Building Energy Visualization by Integrative Event-Driven Data Provisioning, NetSys 2015, Cottbus/Germany, 9-13 March 2015
M. Schmidt, A. Venturi, A. Schülke, R. Kurpatov: The Energy Efficiency Problematics in Sports Facilities: Identifying Savings in Daily Grass Heating Operation, ACM ICCPS 2015, Seattle/US, 14-16 April 2015
2014:
Maja Etinski, Anett Schuelke: Fair Sharing of RES among Multiple Users, ISGT 2014 Washington/ USA
Rie Tanaka, Mischa Schmidt, Christer Åhlund, Yuri Takamatsu: An Energy Awareness study in a Smart City - Lessons learned, IEEE ISSNIP 2014 - Symposium on Smart Grids
Martin Floeck, Apostolos Papageorgiou, Anett Schuelke, JaeSeung Song : Horizontal M2M platforms boost Vertical Industry: Effectiveness Study for Building Energy Management Systems, IEEE World Forum on Internet of Things 2014
Cedric Bodet, Anett Schuelke: Cooperative balancing between energy communities using traffic information and charging assignments, ISGT 2014 Washington/ USA
2013:
Maja Etinski, Anett Schuelke: Traditional Online Scheduling Algorithms in a New Role: Balancing RES Locally in Residential Sector, IEEE ISGT 2013 Denmark
Maja Etinski, Anett Schuelke: Fair Power Allocation in Multi-User Systems with Controllable Loads, IEEE Smart Grid Communication 2013
M. Etinski, A. Schuelke : Optimal Hybrid Storage for Wind Energy Integration, IEEE International Conference on Industrial Technology 2013, Cape Town, South Africa
Anett Schülke, Mischa Schmidt, Martin Flöck, Maja Etinski, Apostolos Papageorgiou, Nuno Santos, Brian Cahill, Karsten Menzel, James Byrne, Tony O'Keeffe, Frank Katzemich, César Valmaseda, Rubén García Pajares, Susana Gutiérrez, Jose L. Hernandez Garcia: A middleware platform for integrated building performance management, Workshop on Building Performance at Central European Symposium for Building Physics (CESBP 2013)