ELEVATE EFFICIENCY TO NEW HEIGHTS
Significant increase in global passenger traffic coupled with capacity constraints. Airport operators need to maintain smooth operations while managing long queues and controlling crowded areas while still delivering excellent customer service. Therefore, new and intelligent technologies are needed.

NEC has created intelligent services which can help airport operators increase efficiency and lower operational costs. Two of our most recent innovations in this area include our passenger flow management system and our flight information display solutions.
Passenger Flow Management
An Airport Without Queues
As airport crowds become increasingly larger, it is also increasingly difficult to effectively manage large airport crowds using traditional methods. No-show boarding passengers, lost children and sick passengers are all significant causes of airport delays which consume precious resources for airport operators and better solutions are needed.
NEC has developed a passenger flow management solution which automates the process of identifying and locating passengers who are in trouble, enabling a quick and efficient response.. The system uses a variety of connected cameras and biometric authentication software, which can be used to identify a missing passenger who can be immediately located.
Display
Displays for all passenger
There is an increasing need to minimize passenger confusion and anxiety by providing real-time, relevant and easy-to-digest information. Airport staff are also increasingly confronted with constantly changing data and on-site retailers need attractive displays to attract the attention of potential customers.
NEC has an industry-leading portfolio of airport display solutions which serve the needs of the entire airport ecosystem and our state-of-the-art products include flight information display system (FIDS), wayfinding, retail signage, control and monitoring and multi-touch passenger entertainment displays.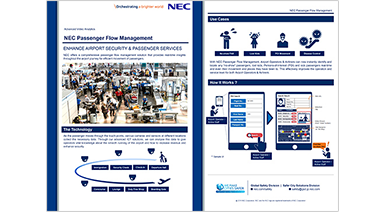 Passenger Flow Management