NEC integrates Diehl's metering systems in its CCOC Smart City Platform to extend the ecosystem of IoT partners
Diehl Metering, the European market leader in automatic reading solutions for water, thermal energy and gas meters, is the first company to integrate metering systems with NEC CCOC platform
Barcelona, 9th November, 2017 - During the 7th Edition of the Smart City Expo World Congress (14-16 November, Barcelona), NEC Europe will present the key features of its Smart City Platform, the Cloud City Operations Center (CCOC), and how it is able to interact with sensors and IoT devices from different suppliers such as Diehl, thus providing the best end-to-end solution for city operation centres.

The collaboration of both partners aims to support the operator's day-to-day decision-making by automating tasks and facilitating the correct choice of strategic decisions in the long term.

In Hall 2 Stand F 626, the partners will demonstrate how the recent integration of Diehl's Smart Metering Systems into NEC's Smart City platform allows greater efficiency in the management of public services, focusing on predicting events around the Smart Water vertical of the city, such as early recognition of leakage, consumption prediction and maintenance.

The event is the perfect framework to show the synergies between both solutions, being the key place for collectivising urban power, increasing city strength, identifying business opportunities, establishing partnerships and contributing to the adoption of common policies.

In addition, 15th November at 15:30, José Luis Mate Gómez, CTO, Public IT Services of NEC Iberica, will give a keynote session under the title "IoT & Data Enabling the Next Generation of Urban Services".

"NEC and Diehl are realizing high synergies in combining their core technologies and presenting a scalable solution. This gives our customers certainty for their investments. Our solution is open and prepared for future applications," said Dr. Christof Bosbach, CTO, Diehl Metering.

The Smart City Expo World Congress event will allow attendees to discover the benefits of citizen centric solutions.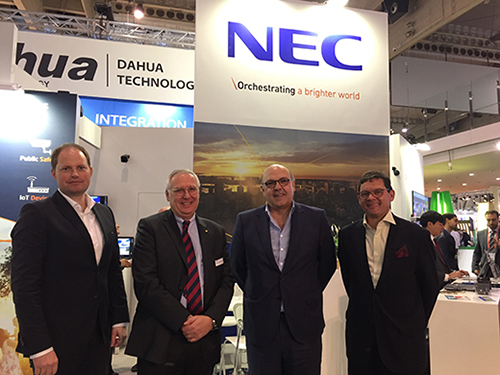 From left to right: Dr. Christof Bosbach Member of the Division Board Diehl Metering, Jean-François Marguet Member of the Division Board Diehl Metering, Jaime Serrano President and CEO - NEC Ibérica and Frank Gutzeit Speaker and Member of the Division Board Diehl Metering.
***

About NEC Europe Ltd.
NEC Europe is a wholly owned subsidiary of NEC Corporation, a leader in the integration of IT network technologies that benefit businesses and people around the world. NEC Europe is building upon its heritage and reputation for innovation and quality by providing its expertise, solutions and services to a broad range of customers, from telecom operators to enterprises and the public sector. For additional information, please visit the NEC Europe home page at: http://uk.nec.com/

About Diehl Metering
Diehl Metering is a corporate division of the Diehl Group, headquartered in Nuremberg. With a total annual turnover of 3.4 billion euros, the technology company employs around 16,300 people worldwide. The corporate division Metering supplies solutions for the intelligent use of water, thermal energy, gas and electricity. Diehl Metering provides smart metering solutions to utilities companies through the intelligent networking of various metering devices into larger data platforms.
Further Information at www.diehl.com/metering

NEC Press Contacts (EMEA):
Takuya Kai
NEC EMEA
Takuya.Kai@emea.nec.com
+81-3-3798-6511

Diehl Metering Press Contact:
Rosemarie Mechel
Diehl Metering
Rosemarie.Mechel@diehl.com
+49-981-1806-576