SAYME and NEC Sign Agreement to Collaborate on IoT Solutions
Madrid, 1st February 2018: NEC Europe Ltd has today announced that it has entered into a new global collaboration agreement with SAYME, a Spanish manufacturer of devices and solution provider for the Internet of Things (IoT).

The two companies have worked together for more than four years and have collaborated on a number of international projects, including joint projects in Santander (Spain) to improve the efficiency of the management of waste collection.

The world is currently experiencing the fourth industrial revolution and technology is playing a leading role in modifying the way we live, work and relate. This new revolution has the potential to raise the levels of global income and quality of life, and both SAYME and NEC hope that their collaboration can help to achieve that.

It is hoped that by working together SAYME and NEC will be able to develop and implement new solutions that combine physical infrastructure with software, sensors, nanotechnology and digital communications technology, with digital processes, capable of taking decentralized decisions and cooperation through IoT. By joining forces and sharing knowledge, skills, experience, talent and trajectory SAYME and NEC will be able to respond to the complex problems that exist in this sector.

"NEC and SAYME have consolidated a promising partnership to develop their business in the IoT market. The companies have been pioneers in a waste collection deployment that took place in Santander, Spain, and covered more than 1,600 dumpsters to provide a complete service of selective waste management for the city," said Alfonso Murat, President at SAYME.

"SAYME sensor technology, together with the NEC Smart City platform, allowed the city to optimize its waste management processes. Being able to monitor the status of the containers and generate alarms in case of any type of incident contributed to increasing the efficiency of public services," said Javier Concha, Head of Business Unit at NEC Iberica.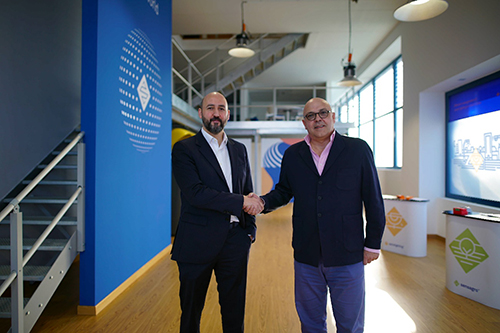 From right to left, Jaime Serrano, president of NEC Iberica and Alfonso Murat, president of SAYME.
***
About SAYME,
SAYME is a technology manufacturer with extensive experience in the development of solutions based on sensors and actuators with ultra-low consumption wireless communications. SAYME has a complete technological platform, 100% designed and developed by the company itself, which combines hardware and software, to provide industrial solutions to its partner ecosystem with application to Industry 4.0 and smart cities.

About NEC Europe Ltd.
NEC Europe is a wholly owned subsidiary of NEC Corporation, a leader in the integration of IT network technologies that benefit businesses and people around the world. NEC Europe is building upon its heritage and reputation for innovation and quality by providing its expertise, solutions and services to a broad range of customers, from telecom operators to enterprises and the public sector. For additional information, please visit the NEC Europe home page at: http://uk.nec.com/
@NEC_EMEA

NEC is a registered trademark of NEC Corporation. All Rights Reserved. Other product or service marks mentioned herein are the trademarks of their respective owners. © NEC Corporation.