NEC's Smart Energy and Smart City Platform Solutions win the Smart Environment Challenge at the Liverpool Mayor's Challenges
London, June 25, 2018 - NEC Europe Ltd. announced it was named a winner of the Smart Environment Challenge at the Liverpool Mayor's Challenges held as part of the Smart Cities Realised event from 13-14 June, 2018, in Exhibition Centre Liverpool, UK.

In its initiative to transform city operations, the city of Liverpool hosted the Liverpool Mayor's Challenges under 5 categories: Smart Social Skills, Ageing Population, Smart Health, Smart Environment, and Smart Transportation. Winners will work together through a formal partnership with the city council for 6 months to deploy and test their solutions in a real-world city environment.

NEC was named a winner in the Smart Environment category by James Noakes, Mayoral Lead for Energy and Smart City, proposing its cutting edge smart energy solutions, including its grid storage and distributed storage solution, coupled with its smart city platform solution, "Cloud City Operations Centre" (CCOC).

"We are honored to be given a chance to collaborate with the City of Liverpool in their smart city initiative. Our smart energy solution will provide the city with flexibility in development planning and efficiency in power management," said Hironobu Kurosaki, President and CEO of NEC Europe. "Utilizing our CCOC platform and smart metering, we can generate valuable insight on energy consumption, in terms of when, where and how much energy is needed in the city. We can further empower and realize digital transformation of city operations in the energy sector by integrating other data sources through CCOC, such as traffic, land registry, and others, to understand and meet the diversified behavioral patterns of energy use."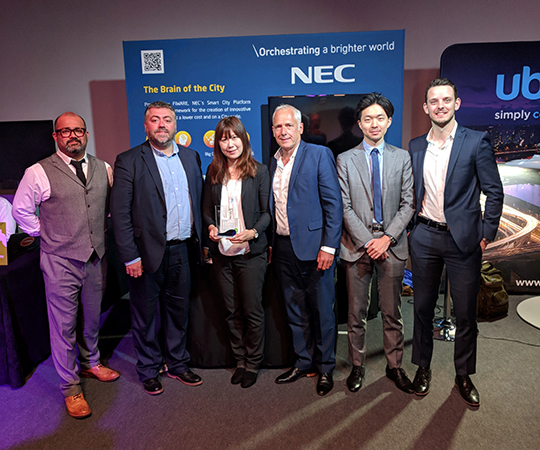 The NEC Team, winners of the Liverpool Mayor's Smart Environment Challenge,
with Councillor James Noakes, Deputy Mayor
For more information on NEC's Smart City solutions, please click here.
***
About NEC Europe Ltd.
NEC Europe Ltd. is a wholly owned subsidiary of NEC Corporation, a leader in the integration of IT network technologies that benefit businesses and people around the world. NEC Europe Ltd. is building upon its heritage and reputation for innovation and quality by providing its expertise, solutions and services to a broad range of customers, from telecom operators to enterprises and the public sector. For additional information, please visit the NEC Europe Ltd. home page at:
http://uk.nec.com/

Twitter: @NEC_EMEA
Linked-in: NEC Europe
NEC is a registered trademark of NEC Corporation. All Rights Reserved. Other product or service marks mentioned herein are the trademarks of their respective owners. © NEC Corporation.
NEC Press Contact:
Mariko Takahashi
Head of Corporate Communication Division
NEC Europe Ltd.

e-mail: communications@emea.nec.com