NEC provides a digital scanner to the Heidelberg University Hospital to accelerate joint research on cancer treatment
Heidelberg, Germany, December 21, 2018 - NEC Laboratories Europe GmbH (NEC) provided a very high-resolution digital scanner to the Department of Applied Tumor Biology at the Institute of Pathology of the Heidelberg University Hospital for digitizing images of cancer tissue samples.

The Department of Applied Tumor Biology (ATB) at the Institute of Pathology is investigating cancer tissues that arise through distinct molecular mechanisms. The new scanner, with a value of more than 100.000 Euro, will enable the Department to digitize these samples and link morphological patterns to molecular signatures by using artificial intelligence. NEC and ATB will use the images to jointly conduct research on tumor biology. The aim is to create artificial intelligence based on machine learning to predict the clinical biology and therapy responsiveness of human cancers. A very high scanner resolution is needed for making individual cancer cells visible in a digital image.

Prof. Dr. med. Magnus von Knebel Doeberitz, Medical Director of the department, commented that "Our goal is to develop digital techniques based on artificial intelligence that make it possible to understand more about the clinical biology of tumors. In our approach molecular and morphological criteria are linked by special algorithms."

Digitization of cancer tissue probes allows for application of novel machine learning technologies, such as deep learning, to a wide range of challenges related to early diagnosis, prognosis and treatment selection for cancer patients. It is expected that digital pathology and machine learning technologies can together accelerate research in the field of Immuno-Oncology and strongly impact its clinical practice.

Dr. Jürgen Quittek, Managing Director of NEC Laboratories Europe GmbH stated: "We believe in the great potential of machine learning technologies for the healthcare sector, especially in crucial research fields such as cancer imaging for biomarker discovery. NEC is glad to support this research and looks forward to clinical applications that improve patient outcomes."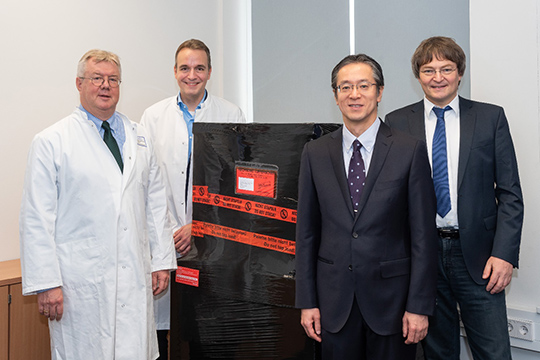 The Heidelberg scientists Prof. Dr. Magnus of Knebel Doeberitz and Dr. Matthias Kloor with Motoo Nishihara from NEC Corporation and Dr. Jürgen Quittek from NEC Laboratories Europe GmbH (from left to right) during the handover of the high-tech scanner.
***
About NEC Laboratories Europe GmbH
Being located in Heidelberg, NEC Laboratories Europe was established in 1994 with special emphasis on meeting the needs of NEC Group's European customers. It dedicates research, development, and standardization on cutting-edge information and communication technologies for creating innovative social solutions.
Our major research areas are including 5G networks, data science, artificial intelligence, IoT platforms as well as IoT security, and blockchain.
These technologies will promote NEC Group's Solutions for a better Society in fields of digital health, lifeline and communication infrastructures, safer cities and public services.
For additional information, please visit our website at: http://www.neclab.eu

About NEC Europe
NEC Europe Ltd. is a wholly owned subsidiary of NEC Corporation, a leader in the integration of IT network technologies that benefit businesses and people around the world. NEC Europe Ltd. is building upon its heritage and reputation for innovation and quality by providing its expertise, solutions and services to a broad range of customers, from telecom operators to enterprises and the public sector. For additional information, please visit the NEC Europe Ltd. home page at:
https://uk.nec.com/

About Heidelberg University Hospital and the Medical Faculty of Heidelberg University
Heidelberg University Hospital is one of the largest and most prestigious medical centers in Germany. The Medical Faculty of Heidelberg University belongs to the internationally most renowned biomedical research institutions in Europe. Both institutions have the common goal of developing new therapies and implementing them rapidly for patients. With about 13.000 employees, training and qualification is an important issue. Every year, around 65,000 patients are treated on an inpatient basis, 56.000 day patients and around 1.000.000 outpatient cases are treated in more than 50 clinics and departments with 2000 beds. Currently, about 3,700 future physicians are studying in Heidelberg; the reform Heidelberg Curriculum Medicinale (HeiCuMed) is one of the top medical training programs in Germany.

About Applied Tumor Biology (ATB) Department
The Department of Applied Tumor Biology (ATB) at Heidelberg University Hospital's Institute of Pathology is an interdisciplinary, translationally-oriented research laboratory. The department aims to decipher basic molecular mechanisms that contribute to the development of cancer.
For additional information, please visit our website at: http://atb-heidelberg.de/

NEC is a registered trademark of NEC Corporation. All Rights Reserved. Other product or service marks mentioned herein are the trademarks of their respective owners. © NEC Corporation.
NEC Press Contact:
Gen Kazama
Marketing Assistant
NEC Laboratories Europe GmbH

e-mail: Gen.Kazama@neclab.eu